Data publikacji w serwisie: 22 listopada 2021 r.
SAVE THE DATE – ANNUAL EPICUR FORUM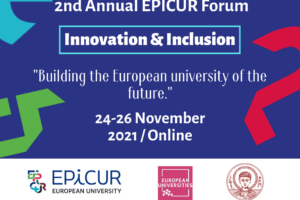 The EPICUR alliance is very pleased to announce its 2nd Annual Forum, hosted by the Aristotle University of Thessaloniki from 24 to 26 November. The theme of this year's forum is "Innovation & Inclusion". The event will be held online.
The Forum will bring together Europeans from all fields and sectors of activity, local, national and European stakeholders and members of the 8 partner universities.
Registration will be open during the month of October.