EPIDI'S ONLINE MULTIPLIER EVENTS
3 lutego 2022 @ 12:00

-

14:00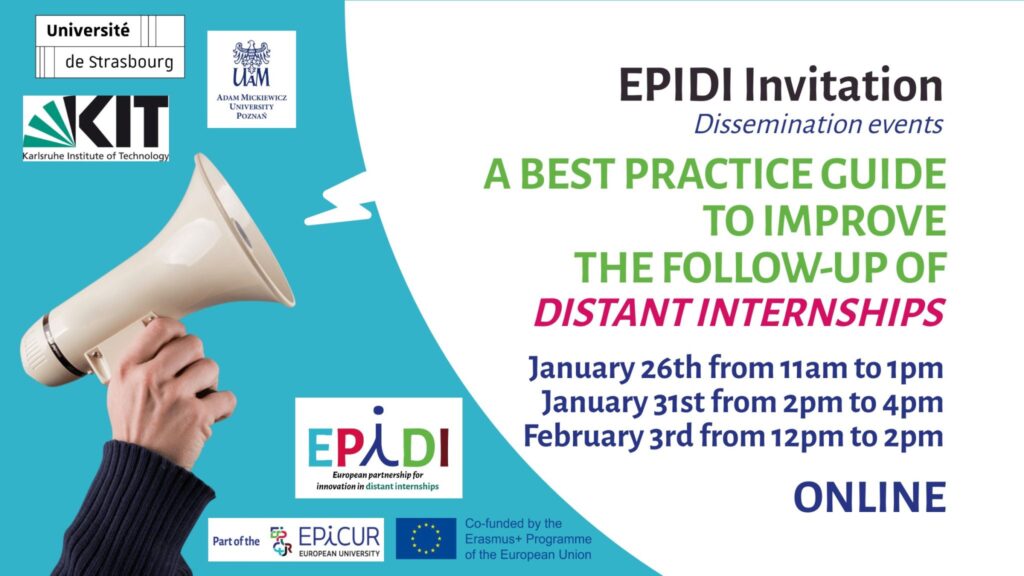 📣 Do you have experience with virtual or hybrid internships?
Join EPIDI's multiplier events to share your insights and help build our Best Practice Guide! 🤝
We are looking for feedback from employers, students, teachers, and university administrative staff.
Therefore, we cordially invite you to one of our multiplier events to discuss the content of our guide, and to make final adjustments with the help of your valuable advice and feedback. 💬
For this purpose, each partner is organizing its own online multiplier event in its own home country.
So, you can participate to the event that you want:
🔸 UNISTRA on January 26th from 11am to 1pm,
🔸 KIT on January 31st from 2pm to 4pm,
🔸 Or AMU on February 3rd from 12pm to 2pm.
➡️ Let's register!
🔹 For UNISTRA's event: https://lnkd.in/eB7EVCvp
🔹 For AMU's event: https://lnkd.in/ey99jnN3
🔹 For KIT's event: https://lnkd.in/dDuJtznb